Cloudbric WAF (Web Application Firewall) has once again been acknowledged as the best WAF in Japan, according to the IT Trend Annual Ranking Award 2020. Cloudbric has held the top spot since 2019.
IT Trend, an IT product and service review company for over 10 million enterprise clients in Japan, annually ranks IT products and services, including cybersecurity software, accounting systems, and among others.
Cloud-based WAF Technology
Cloudbric was ranked No. 1 in the WAF category in 2020. The award shows that over 15,000 business users of IT Trend requested to buy Cloudbric's product last year, which makes it the most popular WAF brand in IT Trend's community, followed by secuWAF (2nd place), CloudCoffer on Cloud (3rd), Scutum (4th), and MSS for Imperva Incapsula (5th).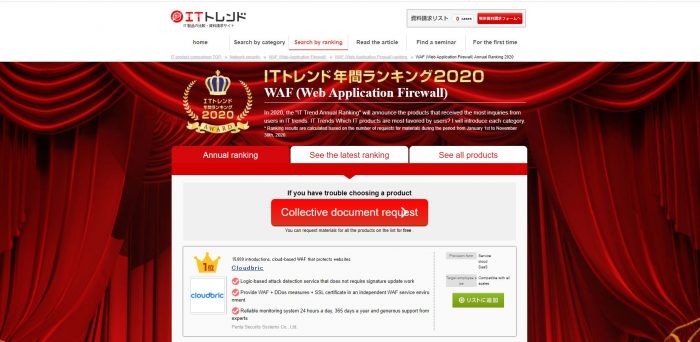 This award demonstrates the values of Cloudbric's product and service in Japan, where the market size of cloud platform services was estimated at 780 billion Japanese yen (7.1 billion USD) in 2019 by statista.com.
Behind the scenes stories
IT Trend reported that the Japanese enterprise market was attracted by three differentiating factors of Cloudbric: One, as a logic-based attack detection service, Cloudbric WAF does not require any signature updates. Two, Cloudbric provides an all-in-one web security solution that includes WAF, DDoS Protection, and SSL certificates as a set. Three, Cloudbric's cybersecurity experts offer reliable 24/7 monitoring as part of a full-managed security service. 2020 was a challenging but prosperous year for Cloudbric. The COVID-19 pandemic has been keeping most of the population in the remote-work environment. It has increased the awareness of cybersecurity. Given all the recent cyber attacks, companies would like to strengthen their online security now more than ever before."It's very encouraging news that IT Trend has acknowledged Cloudbric as the No. 1 WAF again for the last two years. It demonstrates the growth of Cloudbric in Japan. At Cloudbric, we will continue to improve the quality of our service and product, aiming to rank as the best WAF in IT Trend again in 2021," said Taejoon Jung, CEO of Cloudbric.
Learn more about Cloudbric or contact our team to discuss how we can support your business in cybersecurity.