Greetings, from Cloudbric.
Cloudbric is pleased to announce that we have launched Cryptobric 3.0, our digital asset management app, which has new features of phishing and smishing blocking to enhance personal mobile protection. We have successfully incorporated a Cloud-based mobile Secure Web Gateway (SWG) through Cryptobric 3.0.!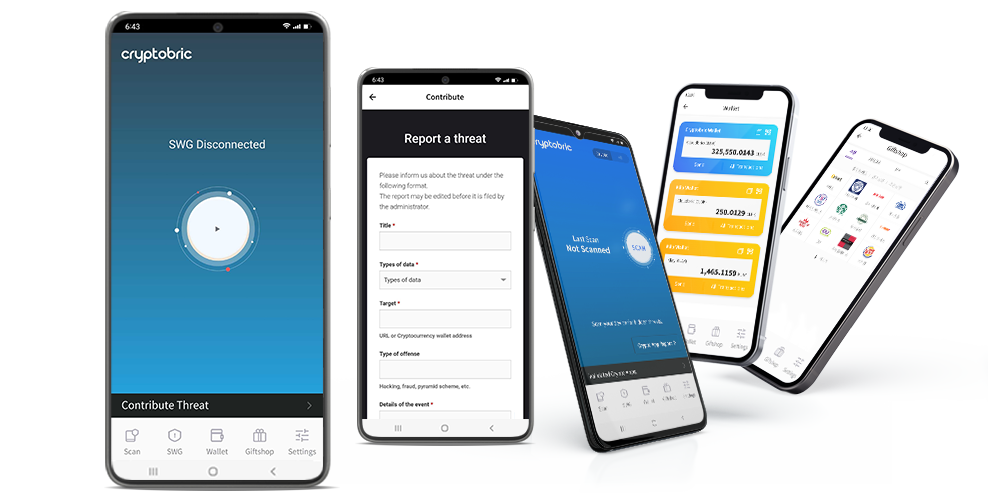 Cloudbric 'Cryptobric v3.0' is a free app which blocks access through phishing URLs included in mobile texts and emails.
In addition, by providing a function that allows users to directly report threat information such as phishing URLs, users who want to participate can report threat information, with compensation for this plan in the future.

> Download Android Version: https://play.google.com/store/apps/details?id=com.cloudbric.cryptobric

> Download iOS Version: https://apps.apple.com/kr/app/cryptobric/id1582906682
> Introduction to Cloudbric Labs: https://labs.cloudbric.com/cryptobric
※ Currently, you can experience SWG and threat information reporting only in the Android version.
Cloudbric will continue to take the lead in developing and improving services to provide the value of security!
Check out Cloudbric's product lines:
No.1 in the Asia Pacific – WAF with A.I & Logic-based detection engine: Cloudbric WAF+
Cloud-based DDoS attack defense service with edge computing: Cloudbric ADDoS
Zero Trust Network Access-based Remote Access Solution: Cloudbric RAS
Blockchain: Blockchain Security Solution
Click here for inquiries regarding the partner system