Zero Trust Network Access and Cloudbric: Protecting Your Data in the Remote Work Era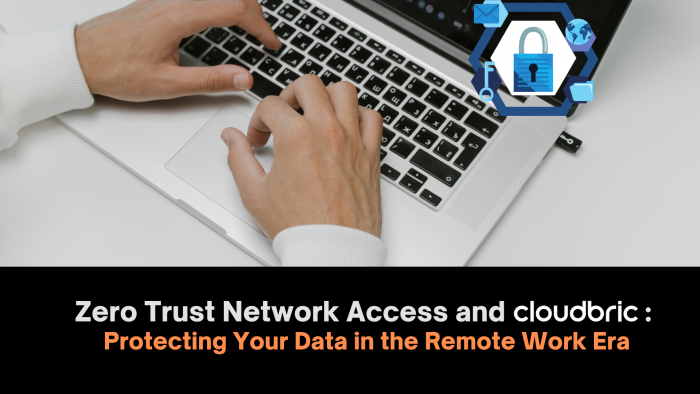 Zero Trust Network Access (ZTNA) protects networks by enforcing "Zero Trust" access to private applications hosted on clouds or corporate centers from any remote location or device, based on the principle, "Never Trust, Always Verify."Most enterprises implement security solutions that focus on outside intruders. Not all threats are external, however. Risks exist not only outside, but everywhere, both inside and outside the system, so security solutions must be implemented that protect against all threats, internal as well as external. Unlike traditional firewalls and VPNs, which focus almost exclusively on keeping malicious actors out while trusting actors inside the defense perimeter, ZTNA solutions — as a matter of principle — distrust everyone, even if they've already been granted access to a network.
ZTNA constantly verifies users and devices before granting them access to sensitive data. They establish granular security, restricting users to specific applications.
ZTNA: Security in the Remote Work Era
Workforces were increasingly on the go even before the COVID-19 pandemic. The pandemic has only accelerated the transition to remote work.A 2020 survey of 127 company leaders by Gartner revealed that 82% "intend to permit remote working some of the time as employees return to the workplace." And nearly half "intend to allow employees to work remotely full time going forward," while for others, flex time will be the new norm.While the new, increasingly remote working environment offers new opportunities for productivity and work-life balance, it also means plenty of outside devices accessing your organization's applications.This can be something of a security nightmare.According to Stanford University, about half the U.S. labor force now works from home. These remote workers are increasingly turning to cloud apps to generate and share data, which in turn leads to more and more security holes for malicious actors to take advantage of.According to one report by experts, the amount of data stored in the cloud will reach 100 zettabytes by 2025, a figure that will represent 50 percent of the world's data. This will include public clouds operated by the likes of Apple, Facebook, Google, Microsoft and Twitter, as well as government-owned clouds, private clouds and cloud storage providers.The millions upon millions of security blind spots this environment creates can have financially painful and even fatal consequences.Consider this — according to one 2021 report, there are 4,000 randsomware attacks a day. And ransomware attacks on hospitals have been blamed for deaths in the United States, United Kingdom and Germany, including a baby born with severe brain injury in the U.S. state of Alabama in 2021 who died of allegedly botched care as the hospital dealt with a ransomware attack.Ransomware involves infecting your target network with malware, encrypting valuable data and demanding ransom payments to release it. With millions of stolen access credentials available on the dark web, there's no guarantee that traditional VPNs and firewalls will protect you.
Cloudbric RAS: Zero Trust-Based Remote Access Solution
Cloudbric's RAS: Remote Access Solution allows users to easily connect to their workplace in a safe remote environment. Cloudbric RAS is based on a zero-trust security model that thoroughly validates all access. It permits access of authorized users and devices and creates a simple and fast remote access environment that delivers Three Layer Security: user authentication, traffic monitoring, and hacking prevention.Cloudbric RAS is cloud-based, requiring zero installations of any hardware or software.Only authenticated users can access the corporate private network and data, regardless of device or access location.The RAS is applied on the organization's web application domain. Before users gain domain access, they are prompted with an authentication page, ensuring only authenticated accounts get access. Cloudbric RAS is quick and easy to set up — just change your DNS.It also detects and blocks notorious web threats, including Cross-Site Scripting (XSS), SQL injection, and DDoS attacks. And unlike traditional VPNs, RAS not only prevents unauthorized users from accessing private networks but also blocks threats within the network.Get in touch with us here to learn about how we're protecting businesses like yours against a full range of critical security threats!