Greetings, from Cloudbric.
Here's the latest from Cloudbric: for May 1st to May 31st.
1. Technology Developments
*Cryptobric App Update

→ v3.0 SWG(Secure Web Gateway) SMS Phishing detection: 60% complete (estimated time of completion: end of 2022 2Q)
Technical review completed
Development scope review completed
Service planning and database upgrade in

progress
*Cloudbric WMS(WAF Managed Service) Update

→ for AWS update: 80% complete (estimated time of completion: 2022 2Q)
Frontend UI planning complete
Technical review completed
Service development in

progress
→ AWS WAF rule set update : 90% complete (estimated time of completion: 2022 2Q)
Rule set optimization in

progress
*SDP(Software Defined Perimeter) Service Development
(ZTNA-based Next-Gen Security Solution)

→ SDP service development : 5% complete (estimated time of completion: 2022 4Q)
Technical review on SDP Agent completed
Service development scope review in

progress
2. Cloudbric News
(1) Preparing for a campaign with a Japanese partner company 'DAiKO'
Cloudbric is preparing for a campaign with our Japanese partner company 'DAiKO'.
A supplier who delivers parts to a famous Japanese automobile company was recently hit by cyber-attacks, causing great damage and their production to be temporally suspended. In general, cyber attacks are increasing in Japan. In particular, if suppliers working with large companies are afflicted, this can cause a chain reaction due to how manufacturing to consumption are all connected, leading to greater damage. Through this campaign, we are trying to minimize the damage to each company by publicizing the risk of cyber attacks and preparing appropriate measures.
(2) Successfully warps up Cloud Expo Europe Frankfurt 2022 in May
Cloudbric participated in the 'Cloud Expo Europe Frankfurt 2022' held in Frankfurt Messe from May 11–12, 2022. Cloud Expo Europe is Germany's leading Cloud technology event, where innovators, specialists, and leaders from various industries such as network and infrastructure, cloud, and security gather for the successful digital transformation of enterprises.
Cloudbric presented its services such as Cloudbric WAF+, ADDoS, and RAS at the event, and had a great time networking with all the people who visited our booth.
Through participation in this exhibition, we have further strengthened our presence in Europe and will continue to strive to promote Cloudbric's technology in the global market.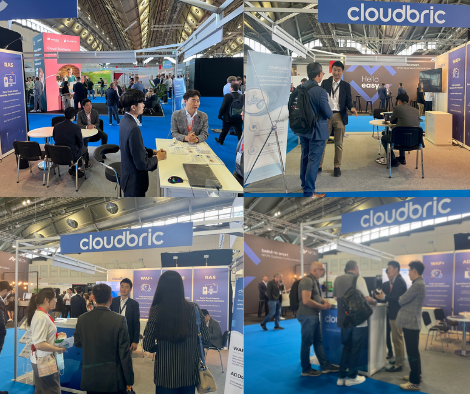 > Shortcut to review Cloud Expo Europe FrankFurt 2022
(3) Attended Japan's Interop Tokyo 2022 Exhibition in June
Cloudbric will participate in the Interop Tokyo 2022 exhibition in Japan from June 15 (Wed) to 17 (Fri). Interop Tokyo 22 is an exhibition focused on Internet technology and application business, and has a long history as an annual IT exhibition since 1994. It is a large event with an approximate number of visitors exceeding 150,000. Cloudbric will participate as the title of Cloudbric Security Platform and introduce Cloudbric's excellent services such as Cloudbric WAF+, ADDoS, RAS, and WMS. Cyber security has recently been attracting more attention in Japan due to the strengthening of the Personal Information Protection Act and the outbreak of large-scale cyber attacks, and countermeasures are urgently needed. In this situation, we are pleased to have an opportunity to promote the excellence and technology of Cloudbric services in Japan.
> Shortcut to Interop Tokyo 2022 Exhibition Site