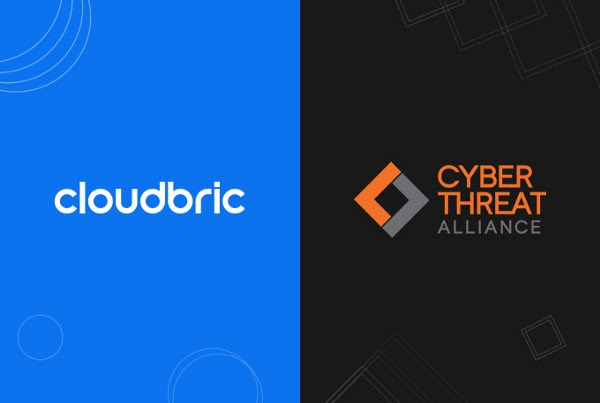 Cloudbric, No.1 cloud-based website security provider in the APAC, is the first blockchain security company to join the Cyber Threat Alliance (CTA), an international non-profit organization of information security for defending against cyber attacks!
Cloudbric is the third member to join CTA, following SK Shieldus and Sands Lab in Korea, and is the first blockchain security company, and the third security company based in Asia.

The global leading security companies such as McAfee, Palo Alto Networks, SMT, and Fortinet have gathered to share their own threat information among companies and build a united front that cooperates closely with each other.
CTA is an international non-profit organization that was founded with the aim of solving the growing cyber threat problem through cooperation, a key keyword of next-generation security governance. > Read more
Cloudbric, like all the other members in the alliance, is required to meet more than a daily quota in sharing cyber threat information, and other types of threat intelligence information such as Advanced Persistent Threat (APT) attacks, advanced malware shared by members are all collected and automatically shared real-time through an open source-based cloud platform (the CTA platform).
CTA Members can use the information in the platform to mitigate and defend against cyberattacks, therefore Cloudbric can enhance our threat intelligence more effectively and make a significant contribution to cybersecurity, through the sharing of threat intelligence and collaboration with the CTA­.
We are pleased that the threat intelligence that Cloudbric has accumulated for the past years has been an opportunity to be recognized in the global market by joining the CTA.
We will continue to spare no effort to grow in Korea and to become widely recognized on a global scale!
Check out Cloudbric's product lines:
No.1 in the Asia Pacific – WAF with A.I & Logic-based detection engine: Cloudbric WAF+
Cloud-based DDoS attack defense service with edge computing: Cloudbric ADDoS
Zero Trust Network Access-based Remote Access Solution: Cloudbric RAS
Blockchain: Blockchain Security Solution
Click here for inquiries regarding the partner system