So, you finally decided that your website is worth protecting (and it is!) and are considering Cloudbric. Are you still confused about how web protection works? Unsure of what the Cloudbric sign up process looks like? Well, don't be afraid!
Let's Get Started with Cloudbric!
We know that taking the plunge to implement a cyber security service might seem overwhelming. Well, we're going to show you how easy it is to sign up for our services and how fast you can be on your way to protecting your website. Here's an easy guide for you to follow on our official Cloudbric 101 guide.
Step 1: Creating an Account
Go to www.cloudbric.com and press the create an account button. Don't worry about the paid plans as all users start with free access until you reach 4GB of traffic in the same month. 4GB is equal to about 1,000 visitors if you have minimal graphics (think 1-2), or about 2-300 if you have moderate graphics (think a typical blog). We'll let you know if you've reached 4GB, and you can decide whether to continue using our service or not before being charged.
You'll receive an e-mail in your inbox asking for confirmation of the account. Don't forget to click the link!
Step 2: Adding Your Website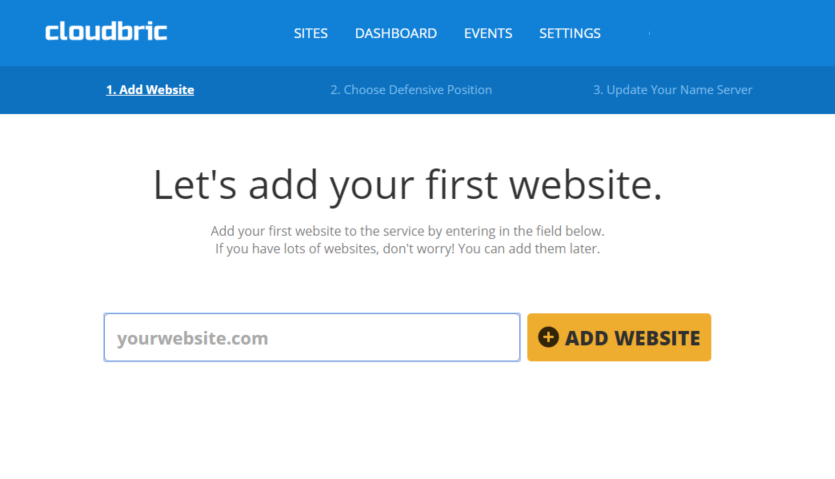 Once you've signed up, you'll see a page that asks you to add your website. Simply type in the domain of your site – for example, www.google.com.
Step 3: Choosing Your Cloudbric Server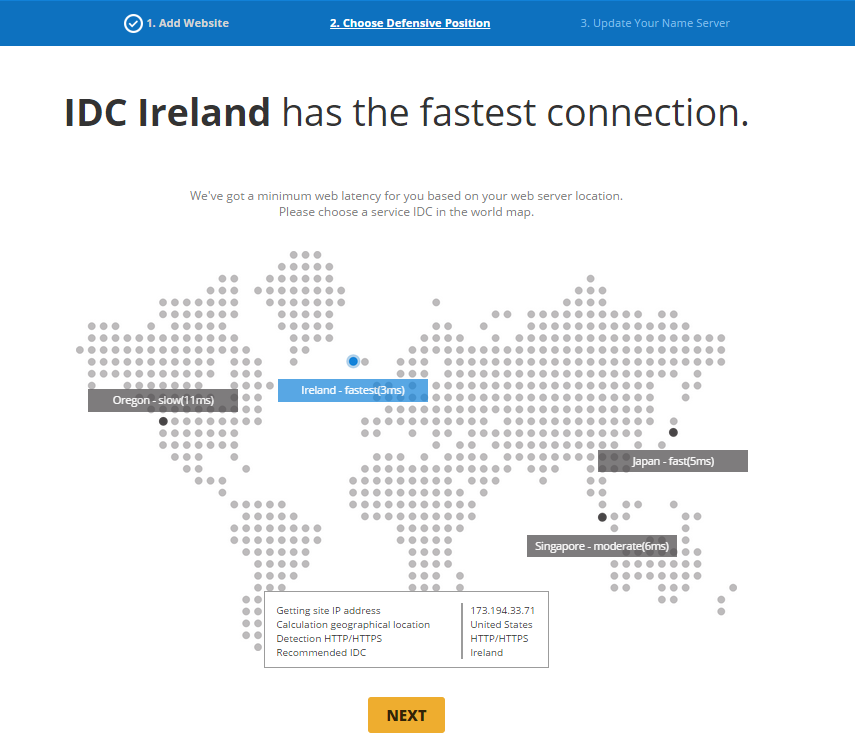 You'll be asked to choose a Cloudbric server out of four options. We will show you a recommendation for the fastest service – in this case, Ireland – so that your website performance is at its best. Simply click on the server, and click 'Next.'
Step 4: Update Your Name Server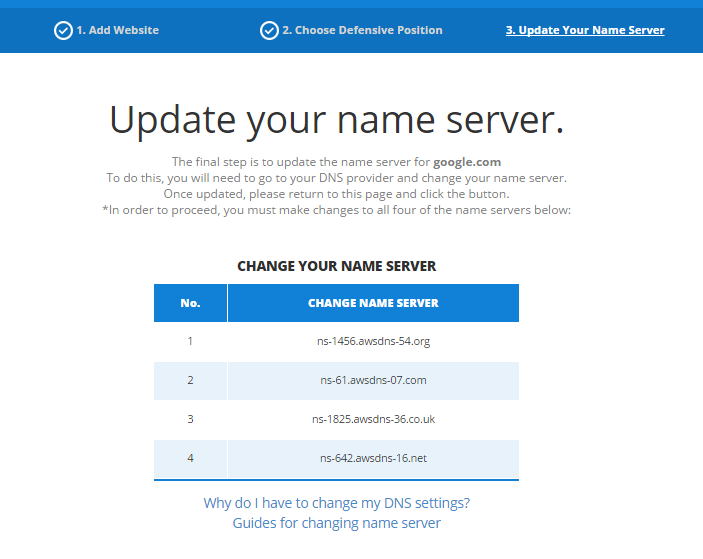 You'll now see the page above. Simply log-in to the administrator account of your website (this isn't Cloubric, but your website host, such as GoDaddy or WiX), and find the 'Settings' page. There you will be able to see information about your website such as what 'name server' your website points to, along with other information such as A-records. These are basically a map for the internet to find your website; don't worry about the jargon! When you see your website information, you will see one, or two (or more!) 'name servers.' Simply replace the ones you see to the ones shown on the Cloudbric site above. Make sure you see four name servers by the time you're done!
When you're ready, scroll below on the Cloudbric page and click 'I've added all missing records.'
And that's it! All you need to do is sit back and relax while Cloudbric takes care of the rest! If you have any questions, don't forget to ask on our real time 24/7 chatting option on the Cloudbric homepage.
---
Update: Cloudbric has opened additional IDCs around the globe so more customers can enjoy our high performing, top quality security service!