Cloudbric received a lot of questions about our web application security service, and in our mission to democratize cyber security, we try our best to make the information readily available. We post a lot of answers in our Help Center, but every week we will give a longer answer about one question. This week, a user asks…
Can I Use Cloudbric for Free?
Not often, but sometimes, people ask us if we have a free trial period. We don't, but that's because our entire service can be FREE for an unlimited time. Cloudbric's website protection service is free up to 4GB per month, but maybe you're not asking the right question.
I Do Not Know My Website Traffic. How Do I Know If My Site Qualifies for Free Use of Your Product?
First, let's talk gigabytes. How large is 4GB?
You could fit 3,579,136 pages of plain text in 4GB, or 17,892 books (200 pages).
That's 2560 webpages (average size 2 MB).
It's 1364 pictures (3MB size, much larger than you'd put online) or 1024 mp3 files (4MB average).
The DVD files of both Star Wars trilogies could be just a little over 4GB. Every time a visitor views one of these, it goes toward the total. Also, do you get more than 2560 unique views per month? Maybe you're getting close. The number would be much higher for smaller mobile pages though.
When you first start Cloudbric protection, you have a big 0 that resets after a month of service. Your service is free as long as it never exceeds that 4GB line. So, how do you know if you're getting close? Don't worry, because we will send you an e-mail alert when you reach 80% of our free plan. If that message arrives on day 29, you have nothing to worry about. If it's day 2, then yes, that's a lot of data and you will probably be required to pay for Cloudbric services (also, who are you — Google?).
If your website reaches 4GB, we will send you another e-mail with a bill. As long as your total monthly bandwidth stays under 10GB, your Cloudbric protection is only $29 per month. That's still pretty good for peace of mind!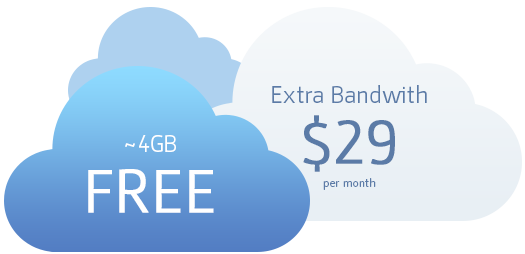 Website bandwidth can be calculated as Number of Visitors x Pages x Page Size. Here, pages mean how many pages one visitor views. Therefore, number of visitors x pages is the same as page views. The calculation can then be as simple as total page views and page size per month. Here are examples to help you compare famous websites and yours.And don't worry if your site is hit by a DDoS attack that dumps gigabytes and gigabytes of bad data — Cloudbric blocks the bad traffic and doesn't charge you a thing! So if your unprotected site is suffering under the crushing weight of a DDoS attack, Cloudbric is as free as ever, and ready to be tagged in. Here's also a quick overview of some popular websites, so you can gauge the size and traffic of each for comparison.
1. Buzzfeed
Buzzfeed is one of the web's most successful content providers, offering a variety of list content, long-form articles, photo galleries, and videos. Approximate total page views x page size = 278,000,000 x 3.12 MB = 867360000 MB = 847031 GB = 847 TB
2. xkcd
xkcd.com is a popular geek humor webcomic with a minimal layout where visitors likely only check the latest comic every couple of days. Approximate total page views x page size = 568,000 x 0.77 MB = 437360 MB = 427 GB
3. The Startup Magazine
The Startup Magazine is a monthly digital publication, so it doesn't publish a high volume of articles every day. Approximate total page views x page size = 80,130 x 2,220 KB = 169.6 GB.
4. YKK
YKK is the world's largest zipper manufacturer, with 45% of the world market share. Their corporate website has little content, but their market share sends them a higher amount of traffic. Approximate total page views x page size = 27,480 x 583134 bytes = 14.9 GB.
Update: Pricing has recently changed for Cloudbric. Contact us for a quote here: global@cloudbric.com