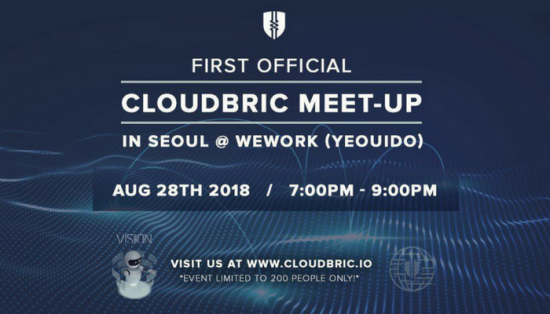 Hello Cloudric community  — both old time fans and newcomers!
Our team is excited to announce our first official meetup to be held on Tuesday, August, 28 from 7 to 9pm at WeWork Yeouido (Seoul).
If you're in the area, we highly encourage to drop by as the program will be not be informative but quite interactive as well. Come and learn all there is to know about our project including our CLB token.
It'll also be an opportunity for you to meet the team including our CEO. Additionally, some of our well-known advisors in the crypt/blockchain community are planning to drop by to share a few words.
Note there were all be a special surprise awaiting those who stay until the end!
It's an event you won't want to miss! Space is limited to 200 people only.
To RSVP for the event, please us at ico@cloudbric.io.
See you all there!
---